HOME

China Trade Shows Calendar

2017 Yiwu Fair Spring - Imported Commodities Fair
2017 Yiwu Fair Spring - Imported Commodities Fair
VENUE:

Yiwu International Expo Center (YWIEC)
Location & Details of Yiwu International Expo Center (YWIEC)

VENUE ADDRESS:

No.59 Zongze Road, Yiwu, Zhejiang, 322000 China

ORGANIZER:

Yiwu International Commodities Fair Co., Ltd (Yiwu Fair Exhibition)


Official Website:

Click to Visit


Contact:

Mr.Zheng; Ms.Ye

Tel:

+86-579-8541 5888

Fax:

+86-579-8541 5392

CITY:

Yiwu

INDUSTRY:

Household Consumables

Gifts & Handicrafts

Food & Beverage

Apparel & Clothing

Complex Trade Show

Sanitation Facilities

DATE:

2017/05/06 - 2017/05/09
EVENT'S PROFILE:
2017 Yiwu Fair Spring - Imported Commodities Fair
As one of the largest, most influential and most productive commodities trade show in China, 2017 Yiwu Fair Spring - Imported Commodities Fair will take place during May 6-9, 2017 at Yiwu International Expo Center (YWIEC), China.
Since it was launched in1995 and approved by UFI, Yiwu Fair has become the third largest exhibition sponsored by the Chinese Ministry of Commerce, and was honored as "Best Management Fairs in China", "Best Outcome Exhibition", "Top Ten Exhibitions in China", "Best Fair sponsored by the Government" and "Most Influential Brand Fairs".
Yiwu Fair covers Hardware, Electronic & Electrical Appliances, Knitwear, Jewelry & Accessories, Crafts, Daily Necessities, and Cultural & Sports Goods. Yiwu fair also has E-commerce & Trade Services, Foreign goods, Women's Federation, Zhejiang Shanhai Cooperation zone.
EXHIBITOR'S PROFILE:
Exhibits Scope
Imported household articles: Chemical cleansing products/ Maternal and Child products/ Kitchen supplies/ Bathroom supplies/ Service robot/ Electric appliances/ Digital equipment/ Communication equipment/ Sports and Entertainment products/ Household decoration/ Health care equipment, etc;
Imported food and Beverages: Coffee/ Wine/ Tea/ Alcoholic drink and Non-alcoholic drink/ Liquor equipment/ Tea set/ Snack food/ Ready-to-eat food/ Health care products, etc;
Imported art-crafts & Ornaments: Ceramics/ Crystals/ Handicrafts/ Toys/ Jewelries/ Ornaments, etc;
Imported garments & Accessories: Children's wear/ Men's wear/ Women's wear/ Accessories, etc;
Cross-border E-commerce service providers & International trade service providers: Cross-border business enterprises/ International logistics/ E-business trading platform/ Third party payment platform/ Import trade supply chain enterprises/ Duty-free stores and Import trading agency/ Import trading platform/ Free trade area/ Bonded Area/ Service agency, etc.
ORGANIZER'S PROFILE:
Name:
Yiwu International Commodities Fair Co., Ltd (Yiwu Fair Exhibition)
Address:
International Expo Center,No.59 Zongze Road,Yiwu,Zhejiang,China (Post code: 322000)
Tel:
+86-579-8541 5888
Fax:
+86-579-8541 5392
E-Mail:
service@yiwufair.com;trade@yiwufair.com
Official Website:
Click to Visit


Established in 1998 and share-hold by Zhejiang China Commodities City Group Co., Ltd (Shanghai Stock exchange code 600415), Yiwu International Commodities Fair Co., Ltd (short for Yiwu Fair Exhibition) is specialized in organization and service of exhibitions from home and abroad. Taking exhibition & convention service, festival & cerebration plan, design & publication of domestic advertisements as business scope, Yiwu Fair Exhibition sets up six functional departments (Administrative office, Sales 1 Dept, Sales 2 Dept, Sales 3 Dept, International Exhibition Dept, Customer service Dept) to organize and operate various kinds of domestic trade shows and exhibitions. Meanwhile, Yiwu Fair Exhibition also devotes to explore overseas brand exhibitions. At the new phase of development, Yiwu International Commodities Fair Co., Ltd will closely cooperate with enterprises in the exhibition industry, and quicken the pace of becoming an international exhibition company with excellent service.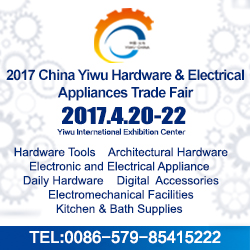 China Trade Show Calendar
Subscribe NEWSLETTER
Subscribe to our free e-newsletter and stay in touch with China exhibition, China trade shows, China expos and China business events.