HOME

China Trade Shows Calendar

GIAS 2017 - The 3rd Guangzhou International Aquarium Show 2017
GIAS 2017 - The 3rd Guangzhou International Aquarium Show 2017
VENUE:

Guangzhou International Sourcing Centre (ISC)
Location & Details of Guangzhou International Sourcing Centre (ISC)

VENUE ADDRESS:

No.8 Pazhou Avenue East, Haizhu District, Guangzhou, China

ORGANIZER:

Guangzhou Grandeur Exhibition Services Co., Ltd.


Official Website:

Click to Visit


Contact:

Ms. Caroline Zhang

Tel:

+86-158-7135 0609; +86-20-2918 8160

Fax:

+86-20-8257 9220

CITY:

Guangzhou

INDUSTRY:

Animal & Pet

DATE:

2017/04/07 - 2017/04/09
EVENT'S PROFILE:
GIAS 2017
The 3rd Guangzhou International Aquarium Show 2017
GIAS 2017 - The 3rd Guangzhou International Aquarium Show 2017 will take place during April 7-9, 2017 at Guangzhou International Sourcing Centre (ISC), China. The organizer is Guangzhou Grandeur Exhibition Services Co., Ltd..
Nowadays, Ornamental fishes are rapidly gaining importance because of their aesthetic value and also due to their immense commercial value in the export trade world over. The art of keeping aquarium is ancient and it started around 800 B.C. in China with gold fish Carassius auratus, which is in demand and a popular ornamental fish throughout the world even today.
Besides, in the ornamental aquaculture sector, ornamental fish breeding, culture and trade provide excellent opportunities as a non-food fishery activity for employment and income generation. It is environment friendly, socially acceptable and involves low investment for adopting as a small scale enterprise with high return. The attarctive colouration and quiet disposition of ornamental fish provide a source of joy and peace for people irrespective of age group.
VISITOR'S PROFILE:
Target visitor
1.Dealers, agents, wholesales, distributors, importers, exporters, etc;
2.Related clubs, enthusiasts, designers, magazines, websites, etc;
3.Aquariums, sea worlds, gardens, zoos, outdoor leisure places, etc;
4.Real estate developers, landscape design/ home decoration companies, etc;
5.Aquarium associations and experts;
6.The Organizing Committee will contact organizations in following countries and regions to invite overseas buyers, such as Germany, France, Mexico, Britain, Italy, Russia, Malaysia, and so forth.
7.A total number of about 100,000 invitations, tickets and other materials will be sent out, including over 300 aquarium markets and 20,000 aquarium shops.
8.The show will be publicized by attending exhibitions in related fields and making good use of press conference, phone call, fax, and other channels.
EXHIBITOR'S PROFILE:
Exhibits Scope
1.Aquarium fishes: all kinds of aquarium fishes, aquarium fish breeding;
2.Aquarium pets: reptiles, amphibians, etc;
3.Aquarium supplies: a variety of aquariums;
4.Related equipments: water pumps, air pumps, temperature control/ water treatment equipment, fishing gear, fishing tackle, etc;
5.Aquarium decoration: various ornaments, artware, etc;
6.Aquarium lighting: lights and related accessories;
7.Feeds & related products: fish feeds, fish medicines, feeders, etc;
8.Aquarium landscape: design companies, manufacturers and others involved in zoos, fish tanks, fish ponds, fountains, water screen films, and other fields;
9.Others: aquatic photography, magazines, media, associations, research institutions, etc.
ORGANIZER'S PROFILE:
Name:
Guangzhou Grandeur Exhibition Services Co., Ltd.
Address:
Room 2303-2305,the 4th Tower, Dong Jun Plaza, No.836 of Dong Feng Dong Road, Yuexiu District,Guangzhou, China (510080)
Tel:
+86-20-2331 8547 / 2831 4758
Fax:
+86-20-8257 9220
E-Mail:
gzhw@grandeurhk.com;grand1@grahw.com
Official Website:
Click to Visit
GRANDEUR EXHIBITION dedicates itself in providing and promoting Trade and Consumer Events, Global Summits, Professional Trainings, Business-to-Business Intelligence Publications, Strategic Business Conferences and On-line Events. GRANDEUR EXHIBITION is cooperated with over 850 associations, media, exhibition organizers and business company. Every year we provide services to 56 events in 8 countries, bringing together about 1 million active event participants worldwide. With over 300 employees in 8 offices around the globe we serve 26 industries worldwide. GRANDEUR EXHIBITION is not just about organizing events. Our role is that of a relationship broker - identifying, targeting, attracting and matching the needs of buyers and suppliers. We aim to maximize business and networking opportunities through associated conferences, features, events and sponsorship opportunities.

YOU MAY ALSO BE INTERESTED IN: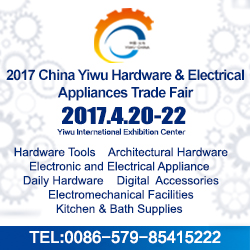 China Trade Show Calendar
Subscribe NEWSLETTER
Subscribe to our free e-newsletter and stay in touch with China exhibition, China trade shows, China expos and China business events.