HOME

China Trade Shows Calendar

CIFF 2017 - China Int'l Furniture Machinery & Furniture Raw Materials Fair (Shanghai)
CIFF 2017 - China Int'l Furniture Machinery & Furniture Raw Materials Fair (Shanghai)
VENUE:

National Exhibition and Convention Center (Shanghai) (NECC)
Location & Details of National Exhibition and Convention Center (Shanghai) (NECC)

VENUE ADDRESS:

333 Songze Avenue, Qingpu District, Shanghai, China

ORGANIZER:

China Foreign Trade Guangzhou Exhibition General Corporation (CFTE)


Official Website:

Click to Visit


Contact:

Peggy;Mr. Chen

Tel:

+86-20-8912 8036/8065

Fax:

+86-20-8912 8102

CITY:

Shanghai

INDUSTRY:

Raw Material

Plant & Machinery

Furniture & Furnishing

Woodworking Industry & Furniture Accessories, Materials

DATE:

2017/09/11 - 2017/09/14
EVENT'S PROFILE:
CIFM / interzum Shanghai 2017
China International Furniture Machinery &
Furniture Raw Materials Fair (Shanghai)
China International Furniture Machinery & Furniture Raw Materials Fair (Shanghai) 2017, as a grand platform for Furniture Machinery & Furniture Raw Materials, will be staged during September 11 to September 14, 2017 at National Exhibition and Convention Center (Shanghai) (NECC).
Founded in 1998, China International Furniture Fair, famous as CIFF, takes place semi-annually in Guangzhou, March and Shanghai, September. With the successful experience of past 39 sessions, CIFF has been well accepted as the Weatherglass of China's Furniture Industry, Asia's Furniture Sourcing Center and the No.1 Platform for the World Class.

In CIFF 2016, the annual exhibition scale will reach 1,150,000SQM with the participation of over 5,000 quality exhibitors and 250,000 professional buyers from about 200 countries and regions.
Concurrently with
CIFF 2017 - The 40th International Furniture Fair (Shanghai)-Outdoor & Leisure
EXHIBITOR'S PROFILE:
Exhibits Profiles:
CIFM:
Machinery: Edge banding machine, Wood processing, Drying equipment, Engraving machine, Leather tailoring machine, Tools & cutters, Pneumatic tools, Machines for upholstery & bedding, Others
Furniture Materials: Hardware fitting, Semi-finished products for office furniture, Aluminium section for modular furniture, Panels & Stone, Upholstery &Bedding, Packing materials, PVC & Veneers, Fabrics & Leather, Chemical materials, Others
ORGANIZER'S PROFILE:
Name:
China Foreign Trade Guangzhou Exhibition General Corporation (CFTE)
Address:
Floor A, Hall 16, Area C, Canton Fair Complex, No.980 Xin Gangdong Rd, Haizhu District, Guangzhou, P.R.China, zip code 510335
Tel:
+86-20-8912 8000
Official Website:
Click to Visit
Subordinated to China Foreign Trade Center, which is affiliated to the Ministry of Commerce of the people's Republic of China, and the host of the famous Chinese Export Commodities Fair (CECF), China Foreign Trade Guangzhou Exhibition General Corporation (CFTE) is one of the most reputable specialized exhibition companies in China, it has over 40 years' rich experience in holding CECF. Its main business scope includes: undertaking, organizing and co-organizing large-scaled international exhibitions, organizing Chinese enterprises to participate in famous fairs abroad, planning and organizing commercial events. It's won good reputation for its tenet of sincerity, high quality service and professionality.
In the past 5 years, the exhibition space at home and abroad had an average increase of 26% and 32% respectively each year, CFTE holds over 10 large-scaled international exhibitions every year, and the total exhibiting space in 2005 will be up to 642,169M2, Among those exhibitions, two shows are worth mentioning: China Guangzhou International Furniture Fair (CIFF) is a "barometer" of China furniture industry, China International Building & Decoration Fair (CBD) is randing the largest fair of its kind in Asia. At the same time, CFTE also organizes Chinese enterprises to participate in famous fairs abroad in over 20 countries and regions. The exhibition scale is among the biggest of the successful counterparts in China.
CFTE has a professional team specializing in handling exhibitions, and a whole set system for OA and Exhibition Management. CFTE by a trade celebrity is: "The China Foreign Trade Guangzhou Exhibition General Corp. is an extremely professional and reliable exhibition company in Chinese market". CFTE has been successively granted as an "Enterprise of Observing Contract and Valuing Credit" by the Guangdong Administration Bureau of Industry and Commerce for many years.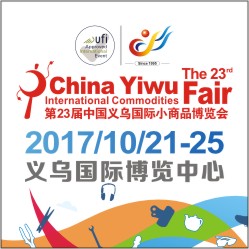 China Trade Show Calendar
Subscribe NEWSLETTER
Subscribe to our free e-newsletter and stay in touch with China exhibition, China trade shows, China expos and China business events.