HOME

China Trade Shows Calendar

Asia Theater & Cinema 2018 - The 9th Asia Theater & Cinema Technology Facilities Fair 2018
Asia Theater & Cinema 2018 - The 9th Asia Theater & Cinema Technology Facilities Fair 2018
VENUE:

China Import and Export Fair Complex
Location & Details of China Import and Export Fair Complex

VENUE ADDRESS:

No. 380, Xingang East Road, Guangzhou, China

ORGANIZER:

Guangzhou Grandeur Exhibition Services Co., Ltd.


Official Website:

Click to Visit


Contact:

Ms. Aileen Chen; Ms. Eve Cheng

Tel:

+86-20-2980 6525; +86-20-2918 8156

Fax:

+86-20-8257 9220

CITY:

Guangzhou

INDUSTRY:

Entertainment

DATE:

2018/04/03 - 2018/04/05
EVENT'S PROFILE:
Asia Theater & Cinema 2018
The 9th Asia Theater & Cinema Technology Facilities Fair 2018
Concurrently with
Asia KTV & Bar 2018 - The 12th Asia KTV, Bar Equipment and Supplies Exhibition
Aims to develop the scale of cross-regional theaters, cinemas and digital cinemas, Asia Theater & Cinema 2018 - The 9th Asia Theater & Cinema Technology Facilities Fair 2018 is to be held on April 3-5, 2018 at China Import and Export Fair Complex, Guangzhou.
Since 2002, the average annual growth rate of China's film box office has increased more than 30%. In 2012, China's film box office reached 17.073 billion, China has become the world's second-largest movie market. More than 3,100 in the operation theater and average 1664 pieces new screen needed in every day; The number with reach 11,000 pieces nationwide.
VISITOR'S PROFILE:
Target visitor
1. National trade associations, government officials, theater & cinema investment companies, etc;
2. Theaters & cinemas, studio city, children's palaces, museums, etc;
3. Agents and retailers of 3D/4D/5D equipments, movie equipments, etc;
4. Performance broker companies, equipment rental and sales companies, etc;
5. Broker companies in domestic and foreign performing and entertainment industry, film and record investors and partners;
6. Film colleges, art academies, performing academies, etc.
EXHIBITOR'S PROFILE:
Exhibits Scope
1. Cinema Playing Equipment
Movie projector, digital film equipment, stereoscopic film equipment, sound reproduction equipment, projection equipment, sound reproduction by red light, power amplifier, showing lens, xenon lamp, projection screen, stage curtain, mobile screening server, AFC equipment, video glasses;
2. Theater&Cinema Furniture and Decoration Materials
Theater&cinema design, cinema chair, auditorium chair, theater chair, row chair, sound absorption/cancellation materials, decoration materials, air conditioning and ventilation equipment, fire control facilities, etc;
3. Theater&Cinema Lighting and Sound Equipment
professional lighting and sound equipment and illumination, LED stage display screen, LED stage background, stage machinery, special effects, conference systems, etc;
4. Cinema services
leisure food machine (popcorn machine, popcorn insulation ark, cotton candy machine, hot dogs bowel machine), snack food, Beverages;
5. Film Production and Shooting
film making and shooting equipment, film and record shooting special effects, film and video shooting equipment and other related equipment
ORGANIZER'S PROFILE:
Name:
Guangzhou Grandeur Exhibition Services Co., Ltd.
Address:
Room 2303-2305,the 4th Tower, Dong Jun Plaza, No.836 of Dong Feng Dong Road, Yuexiu District,Guangzhou, China (510080)
Tel:
+86-20-2331 8547 / 2831 4758
Fax:
+86-20-8257 9220
E-Mail:
gzhw@grandeurhk.com;grand1@grahw.com
Official Website:
Click to Visit
GRANDEUR EXHIBITION dedicates itself in providing and promoting Trade and Consumer Events, Global Summits, Professional Trainings, Business-to-Business Intelligence Publications, Strategic Business Conferences and On-line Events. GRANDEUR EXHIBITION is cooperated with over 850 associations, media, exhibition organizers and business company. Every year we provide services to 56 events in 8 countries, bringing together about 1 million active event participants worldwide. With over 300 employees in 8 offices around the globe we serve 26 industries worldwide. GRANDEUR EXHIBITION is not just about organizing events. Our role is that of a relationship broker - identifying, targeting, attracting and matching the needs of buyers and suppliers. We aim to maximize business and networking opportunities through associated conferences, features, events and sponsorship opportunities.

YOU MAY ALSO BE INTERESTED IN: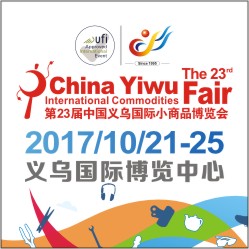 China Trade Show Calendar
Subscribe NEWSLETTER
Subscribe to our free e-newsletter and stay in touch with China exhibition, China trade shows, China expos and China business events.