HOME

China Trade Shows Calendar

CIIF 2017 - The 19th China International Industry Fair 2017
CIIF 2017 - The 19th China International Industry Fair 2017
EVENT'S PROFILE:
CIIF 2017
The 19th China International Industry Fair 2017
As a leading trade show on equipment manufacturing in China, CIIF 2017 - The 19th China International Industry Fair 2017 will take place on Nov.7-11, 2017 at National Exhibition and Convention Center (Shanghai) (NECC), China.
Since its foundation in 1999, China International Industry Fair (CIIF) has become a leading event for manufacturing in China as well as an important window and platform open to the world for international trade, communication and cooperation on industrial scope.
CIIF 2017 will comprise nine Theme Shows under one roof and occupy 280,000 square meters as its display area. Over 2,500 exhibitors and 160,000 trade visitors are expected to attend the event.
See Last Version:
CIIF 2016 - The 18th China International Industry Fair 2016
ORGANIZER'S PROFILE:
Name:
Shanghai EastBest International (Group) Co., Ltd
Address:
Ciif Branch, Add: No.837, Yan, An Road (c) Shanghai,China
Tel:
+86-21-2206 8386
Fax:
+86-21-6289 5703
E-Mail:
office@shanghaiexpogroup.com;
Official Website:
Click to Visit
Shanghai EastBest International (Group) Co., Ltd was co-established on February 18, 2004 by Shanghai Media & Entertainment Group, the Orient International (Holding) Co., Ltd and Shanghai World Expo Land Holding Co., Ltd, this pioneering exhibition company has been successfully organizing trade shows, exhibitions, business events and functions for many years. It has garnered a niche for itself in the exhibition industry as a well-regarded organizer and has gained much trust and respect amongst many exhibiting companies. What makes the East Best Group the obvious choice amongst many exhibiting companies is its novel and innovative approach towards the events and trade shows organized by the company, its personal attention towards the customer's needs and also the high number of visitors and business opportunities generated by their events.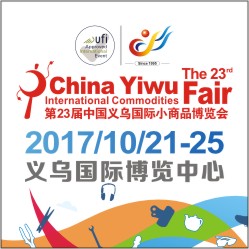 China Trade Show Calendar
Subscribe NEWSLETTER
Subscribe to our free e-newsletter and stay in touch with China exhibition, China trade shows, China expos and China business events.