HOME

China Trade Shows Calendar

MAISON SHANGHAI 2017
MAISON SHANGHAI 2017
EVENT'S PROFILE:
MAISON SHANGHAI 2017
MAISON SHANGHAI 2017 is dedicated to home decor, textile, designers' works, furniture and the art of living, which will take place on Sep.12-15, 2017 at Shanghai World Expo Exhibition & Convention Center, China.
Aims to lead a vogue interior lifestyle typically in the modern city of Shanghai, MAISON SHANGHAI endows dedication to offering quality exhibits and services for buyers and suppliers around the world. By presentation of high-end domestic products as well as compatible foreign brands both in design and function.
MAISON SHANGHAI 2017 will stand in the perspective of modern aesthetics to offer intelligent interior decorative products of daily life as a forward-looking provider with ideas to livable interior. It will create an inspiration hub that is interactive for business globally in the home decoration industry.
ORGANIZER'S PROFILE:
Name:
Shanghai UBM Sinoexpo International Exhibition Co., Ltd
Address:
7&8/F, Xian Dai Mansion, 218 Xiang Yang Road (S) Shanghai 200031, P.R. China
Tel:
+ 86-21-6437 1178
Fax:
+ 86-21-6437 0982
E-Mail:
info@ubmsinoexpo.com
Official Website:
Click to Visit
Shanghai UBM Sinoexpo International Exhibition Co., Ltd. (UBM Sinoexpo) is a professional joint venture exhibition enterprise between Shanghai Sinoexpo International Exhibition Ltd. (established in 1992) and UBM China Ltd., the arm of UBM Asia that is responsible for the group's mainland China business.
UBM Sinoexpo states "Be the Best" as its corporate value and mission. With a group of talented international professionals who either have expertise in the industry rules and regulations or are familiar with event operations, UBM Sinoexpo organises international exhibitions and conferences through our global network with government bodies, trade associations and organisations, media companies and partners.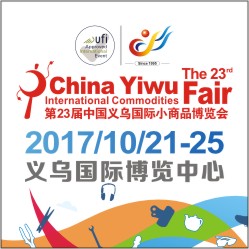 China Trade Show Calendar
Subscribe NEWSLETTER
Subscribe to our free e-newsletter and stay in touch with China exhibition, China trade shows, China expos and China business events.