HOME

China Trade Shows Calendar

Global Sources Fashion Show 2017 (Autumn)
Global Sources Fashion Show 2017 (Autumn)
VENUE:

AsiaWorld-Expo (AWE)
Location & Details of AsiaWorld-Expo (AWE)

VENUE ADDRESS:

AsiaWorld-Expo Management Limited, AsiaWorld-Expo, Hong Kong International Airport, Lantau, Hong Kong, China

ORGANIZER:

Global Sources c/o Media Data Systems Pte Ltd


Official Website:

Click to Visit


E-Mail:

visit@globalsources.com


Tel:

+852-8819 7308

CITY:

Hong Kong

INDUSTRY:

Fabrics & Textiles

Apparel & Clothing

Fashion & Accessories

DATE:

2017/10/27 - 2017/10/30
EVENT'S PROFILE:
Global Sources Fashion Show 2017 (Autumn)
As the ideal platform sourcing the latest fashion products, Global Sources Fashion Show 2017 (Autumn) will take place on Oct.27-30, 2017 at AsiaWorld-Expo (AWE), Hong Kong.
Global Sources Fashion Show is the best trade show sourcing the next bestsellers in apparel, bags & luggage, fashion jewelry, underwear & swimwear, scarves, footwear and fabrics.
During Global Sources Fashion Show, attendees can find Asia's biggest collection of scarves and Hong Kong's largest selections of bags & luggage, footwear, sports fashion & active lifestyle products!
During Global Sources Fashion Show, 80% of exhibitors are exclusive to the show and 400 of them are brand new. 600 exhibitors accept small orders and 470 exhibitors are promoting their own designs and brands. 100% of exhibitors at Global Sources Fashion are Verified Suppliers.
During Global Sources Fashion Show 2017, all visitors will find sourcing seminars, live catwalk shows, and exclusive trend forecasts by Fashion Snoops and Pantone to help capture the latest trends in fast fashion! Global Sources Fashion Show 2017 will be conveniently timed for buyers who also visit the Canton Fair.
VISITOR'S PROFILE:
Who Should Visit
Every April and October, our Hong Kong shows welcome volume buyers from some 200 countries who come to visit manufacturers and other suppliers from China and throughout Asia.
•Executives of businesses that purchase for resale: Many of the world's leading retailers, manufacturers and brand-owners are represented by senior management, and by sourcing and product development executives. The shows are also heavily attended by a wide range of small and medium-sized importer, wholesaler and retailer businesses – including boutiques, independent retailers and a fast-growing segment of online and Amazon sellers.
•Executives with purchasing authority: Since the shows are dedicated to strategic sourcing, the majority of attendees have purchasing authority -- and executive management job titles like Owner, Partner, President, Director and General Manager. Approximately 15% of buyers place orders at the show while an additional 30% place orders within a month of attending.
•Executives seeking private-label and suppliers' brands: Much of the business conducted is "private label" where the brand is owned by the overseas buyer but produced by the contract manufacturer in Asia. There is also a growing amount of sourcing where the buyer is purchasing the Asian suppliers design and/or brand.
Global Sources Fashion also welcomes design students, fashion entrepreneurs, industry analysts and others who want to see the current trends and opportunities in the market.
EXHIBITOR'S PROFILE:
Exhibits Scope
Bags & Luggage
Fashion Bags
Backpack & Luggage
Accessories & Footwear
Fashion Accessories & Eyewear
Scarves & Gloves
Fashion Jewelry
Socks & Leggings
Footwear
Apparel & Fabrics
Casual Wear & Jacket
Sweater & Knitwear
Sportswear
Kids Zone
Fabrics, Lace & Trimmings
Underwear & Swimwear
Swimwear & Beachwear
Underwear & Sleepwear
ORGANIZER'S PROFILE:
Name:
Global Sources c/o Media Data Systems Pte Ltd
Address:
Global Sources c/o Media Data Systems Pte Ltd Raffles City PO Box 0203 Singapore 911707
Tel:
(65) 6547 2800 / (1) 480 951-4400
Fax:
(65) 6547-2888
E-Mail:
service@globalsources.com
Official Website:
Click to Visit
​Global Sources creates, manages and delivers the information that trading partners need to meet and do business. We provide the right information, at the right time, in the right format.

for further information you can also contact us via e-mail at: service@globalsources.com
Or call us at our following numbers:
Singapore (65) 6547 2800
USA (1) 480 951-4400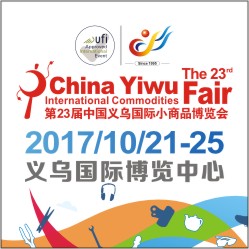 China Trade Show Calendar
Subscribe NEWSLETTER
Subscribe to our free e-newsletter and stay in touch with China exhibition, China trade shows, China expos and China business events.