HOME

China Trade Shows Calendar

CSFE 2017 - 2017 China (Shanghai) International Foundry Expo
CSFE 2017 - 2017 China (Shanghai) International Foundry Expo
VENUE:

Shanghai New International Expo Centre (SNIEC)
Location & Details of Shanghai New International Expo Centre (SNIEC)

VENUE ADDRESS:

2345 Long Yang Road, Pudong Area, Shanghai, 201204, China

ORGANIZER:

Shanghai Huaye Exhibition Co., Ltd


Official Website:

Click to Visit


Contact:

Lin Sen

Tel:

+86-135-2432 1255; +86-21-6919 0370

Fax:

+86-21-6129 4607

CITY:

Shanghai

INDUSTRY:

Metal, Minerals & Foundry

DATE:

2017/11/20 - 2017/11/22
EVENT'S PROFILE:
CSFE 2017
2017 China (Shanghai) International Foundry Expo
About the trade fair in China
Concurrently with CSFE 2017 - 2017 China (Shanghai) International Casting Expo, CSFE 2017 - 2017 China (Shanghai) International Foundry Expo will take place on Nov.20-22, 2017 at Shanghai New International Expo Centre (SNIEC), China.
EXHIBITOR'S PROFILE:
Exhibits Scope
◆ Castings
Automobile, motorcycle, machine tool, ship, wind power generation, engineering machinery, rail transit, heavy-duty machinery, mining machinery, textile machinery, printing machinery, medical machinery, general machinery, power transmission and transmission, electronic communication, petrochemicals, building hardware, pipeline pump valve, pipe fitting, municipal engineering, urban art casting and aluminum/magnesium/zinc/copper alloy die-casing.

◆ Casting equipment
Kinds of smelting furnace, automatic pouring machine, molding line, core making center, sand mixer, sand processing equipment, sand reclamation equipment, shot blast cleaning equipment, die-casting machine, precision casting equipment, full mold casting device, various robot, fast molding equipment, nondestructive testing equipment, cleaning environment protection equipment, age-treatment equipment, heat treatment equipment, casting mould, casting defect repair equipment, casting processing equipment, etc.environmental protection technology, de-dusting and purification system, industrial air-conditioner, ventilation equipment, negative pressure exhaust fan, fan, industrial cleaning technology and equipment, various casting molds, casting clearing equipment, casting mending equipment and infiltration equipment.

◆ Foundry Materials
Foundry resin, paint, foundry pig iron, ferroalloy, non-ferrous metal, insulated feeder, filter, foundry coke, silica sand, precoated sand, chromite sand, coal dust, inoculant, refining agent, nodulizer, vermiculizer, dregs remover, silica sol, refractory materials, etc. foundry raw and auxiliry material.

◆ Instrument
Testing machine of mold sand machine property, direct-reading spectrometer, mechanics performance tester, three coordinate measuring machine, high and low temperature impact test box, etc.
ORGANIZER'S PROFILE:
Name: Shanghai Huaye Exhibition Co., Ltd
Address: Room 606,Cao An International Mall, No.1855, Cao An Road, Shanghai, China
Tel: +86-21-6919 0370/0215
Fax: +86-21-6919 0215
E-Mail: linsen135@vip.126.com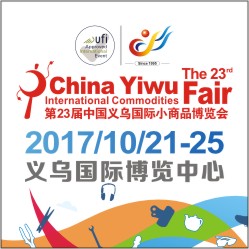 China Trade Show Calendar
Subscribe NEWSLETTER
Subscribe to our free e-newsletter and stay in touch with China exhibition, China trade shows, China expos and China business events.