HOME

China Trade Shows Calendar

Pharmacognosy 2018 - 6th Int'l Conference and Exhibition on Pharmacognosy, Phytochemistry & Natural Products
Pharmacognosy 2018 - 6th Int'l Conference and Exhibition on Pharmacognosy, Phytochemistry & Natural Products
VENUE:

TBA (To Be Announced) / TBC (To Be Confirmed)


ORGANIZER:

ConferenceSeries Ltd


Official Website:

Click to Visit


Contact:

Harisha P

Tel:

+1-650-889 4686

CITY:

Beijing

INDUSTRY:

Medical & Pharmaceutical

Exhibition & Conference

Herbal, Nutrition, Organic & Natural Products

DATE:

2018/09/12 - 2018/09/13
EVENT'S PROFILE:
Pharmacognosy 2018
6th International Conference and Exhibition
on Pharmacognosy, Phytochemistry & Natural Products
As the theme of "Pharmacognosy, A Science of Natural Products in Drug Discovery", Pharmacognosy 2018 - 6th International Conference and Exhibition on Pharmacognosy, Phytochemistry & Natural Products will take place on Sep.12-13, 2018 at Beijing, China.
Organized by ConferenceSeries Ltd, Pharmacognosy is a exhibition and conference focucing on the field of pharmaceutical Sciences. Pharmacognosy 2018 will schedule and coordinate all meetings with editorial board members and other experts in the pharmacognosy, phytochemistry & natural products fields across the world.
ORGANIZER'S PROFILE:
Name:
ConferenceSeries Ltd
Tel:
+1-650-889 4686
E-Mail:
pharmacognosy@pharmaceuticalconferences.org
Official Website:
Click to Visit
ConferenceSeries Ltd is a world class conference organizer, which have highly talented conference organizers around the world.
ConferenceSeries Ltd have 70,000 editorial board members for ConferenceSeries Ltd journals and also 600+ Scientific conferences. ConferenceSeries Ltd publish more than 700+ Open access journals for which they have more than 1 million readers and strictly follow 21 day rapid review process.
ConferenceSeries Ltd endeavor to support and organize a variety of conferences throughout the year as educational opportunities to update knowledge and skills.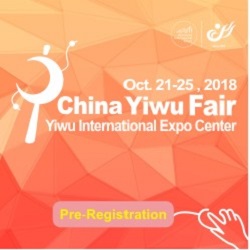 China Trade Show Calendar
Subscribe NEWSLETTER
Subscribe to our free e-newsletter and stay in touch with China exhibition, China trade shows, China expos and China business events.