HOME

China Trade Shows Calendar

China PEC 2018 - The 18th China Plastics Exhibition & Conference
China PEC 2018 - The 18th China Plastics Exhibition & Conference
EVENT'S PROFILE:
China PEC 2018
The 18th China Plastics Exhibition & Conference
About the trade fair in China
China PEC 2018 - The 18th China Plastics Exhibition & Conference will be staged during Oct.11-14, 2018 at Taizhou International Convention & Exhibition Center (TZICEC), China.
As the only exhibition in the plastics industry supported by the Ministry of Commerce of the People's Republic of China since 2005, China PEC showcases all the elements of the plastics industry, such as plastic products, raw materials, machines, dies and moulds and related technologies.
EXHIBITOR'S PROFILE:
Content of Exhibits
Plastic Machines and Equipments
(A & B section)
1、Injection molding machine, extruder, hollow molding machine;
2、Rubber melting machine、roller mill and other plastic processing mechanism and equipments;
3、Silk-screen, pad printing, bronzing, heat transfer printing, spray code and other printing and packing mechanism and equipments;
4、Testing apparatus, examining equipments and related equipments and accessories.
Plastic Moulds and Equipments
(C section)
1、Moulds and mould products, mould standardized items, mould material;
2、Digital control system and FMS flexible processing system, CAD/CAM/CAE techniques, polishing techniques and auxiliary equipments;
3、Process center, digital control machine tools and mould testing equipments;
4、Testing equipments and other tools, blades.
Plastic Material and Auxiliary
(D section)
1、Various kinds of general plastic material, engineering plastic, modified plastic functional masterbatch and supplements;
2、Various kinds of plastic pigment, dye, color mother grains and other pigmentation masterbatch and dope;
3、Various kinds of chemical auxiliary, additives。
Plastic Products and Plastic Parts
(E section)
1、Various kinds of plastic commodities, plastic products used in agriculture, forestation, herding and other tertiary industries;
2、Plastic craftwork and toys;
3、Plastic construction material, tubes and cables;
4、Plastic parts of autos, motors, machines, electronic and electrical appliances, etc. and plastic packaging.
ORGANIZER'S PROFILE:
Name:
Taizhou International Convention & Exhibition Center Co., Ltd. (TICEC)
Address:
No.1, Tengda Rd, Luqiao District, Taizhou, Zhejiang, 318050, China
Tel:
+86-576-8253 1122
Fax:
+86-576-8253 1017 /1016
E-Mail:
sinobizinfo-tzicec@yahoo.com.cn
Official Website:
Click to Visit
Taizhou International Convention & Exhibition Center Co., Ltd. (TICEC) is a wholly owned subsidiary of China Commodity City Group Co., Ltd., a conglomerate with annual sales of more than 10 billion Chinese Yuan.At TICEC, we believe that a business alliance with a complementary foreign institution will help not only extend an organization's market reach overseas, but also deepen and broaden its services at home.That is why we would like to invite you to join us in exploring a partnership possibility between us where synergy can be created, and common goals can be achieved.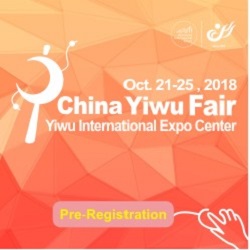 China Trade Show Calendar
Subscribe NEWSLETTER
Subscribe to our free e-newsletter and stay in touch with China exhibition, China trade shows, China expos and China business events.