HOME

China Trade Shows Calendar

C-Medical Fair/CMEH 2019 - The 26th China (Beijing) International Medical Devices Exhibition 2019
C-Medical Fair/CMEH 2019 - The 26th China (Beijing) International Medical Devices Exhibition 2019
EVENT'S PROFILE:
C-Medical Fair/CMEH 2019
The 26th China (Beijing) International Medical Devices Exhibition 2019
Organized by Shanghai Juyi Exhibition Service Co., Ltd, C-Medical Fair/CMEH 2019 - The 26th China (Beijing) International Medical Devices Exhibition 2019 will be held from Sept. 26 - 28, 2019 at China International Exhibition Center (CIEC).
The 26th China Beijing International Medical Devices Exhibition (CMEH) 2019 comprehensively covers products including medical electronics, medical imaging instrument, optics, first aid, rehabilitation nursing, medical supplies and hygienic material, testing instrument and diagnostic reagent as well as medical information technology, and directly and comprehensively serves the whole medical industrial chain of medical device industry.
At each C-Medical Fair/CMEH, more than 1,000 medical device manufacturers from over 20 countries and 30,000 person-times governmental purchasing agencies, hospital buyers and distributors, as well as agents from over 20 countries and regions gather in C-Medical Fair/CMEH for transaction and communication.
EXHIBITOR'S PROFILE:
Exhibition Scope
● Medical devices: Various new-type medical instruments and auxiliary medical devices and equipment, heart monitoring equipment, medical photographic equipment, biochemical lab equipment and household medical devices such as blood-pressure meters, thermometers etc.;
● Diagnosis and therapy equipments: X-ray diagnosis and inspection equipment, ultrasonic diagnosis equipment, nuclear medical equipment, endoscope system, ophthalmology and otorhinolaryngology therapy instruments, dynamic analytic instruments, crymotherapy equipment, dialysis therapy equipment, first-aid devices etc.;
● Ward care equipments and devices: Various patient beds, cabinets, operation chairs and beds, etc.
● Auxiliary equipment: sterilization series products, oxygen-making and oxygen-supply equipment, blood bank facility, medical data and image processing equipment, rehabilitation apparatus, special apparatus for the disabled etc.;
● Oral medical devices: Dental diagnosis and therapy equipment, dental operation apparatus, dental technician equipment;
● Hospital remote medical system, hospital medical information system, hospital office automation system;
● Medical dressing: Medical bandage, gauze, face mask, Medical adhesive plaster, band-aid, cotton balls, medical gloves, surgery protective film, breathable medical tape, adhesive, dressing plaster, disposable syringes and infusion apparatus;
● Medical MRI (magnetic resonance imaging) equipment;
● Medical equipment and devices for operation room, emergency room and diagnostic therapeutic room;
● Medical software and information processing system, medical media and related services.
ORGANIZER'S PROFILE:
Name:
Shanghai Juyi Exhibition Service Co., Ltd
Address:
Unit2304,Building Jinxiao,Number1,Lane36, Biquan Road,Shanghai
Tel:
+86-21-6488 0851
Fax:
+86-21-6412 6798
E-Mail:
shzhanya@126.com
Official Website:
Click to Visit
Shanghai Juyi Exhibition Service Co. Ltd. is a professional planning and organization of domestic large and medium-sized exhibition and conference of the company, in the industry enjoyed a high reputation, the company since its inception actively seek and support management departments of various trade associations, government departments and related industries, and maintain close exchanges and cooperation with the. Constantly absorbing the excellent exhibition experience at home and abroad, strict management and quality services, and actively expand the business, provide first-class exhibition, conference and advertising services for customers, we are willing to work with friends from all walks of life hand in hand, and common development.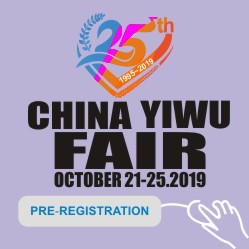 Subscribe NEWSLETTER
Subscribe to our free e-newsletter and stay in touch with China exhibition, China trade shows, China expos and China business events.