HOME

China Trade Shows Calendar

China Forest Fair 2019 - The 12th China Yiwu International Forest Products Fair
China Forest Fair 2019 - The 12th China Yiwu International Forest Products Fair
VENUE:

Yiwu International Expo Center (YWIEC)
Location & Details of Yiwu International Expo Center (YWIEC)

VENUE ADDRESS:

No.59 Zongze Road, Yiwu, Zhejiang, 322000 China

ORGANIZER:

Yiwu International Commodities Fair Co., Ltd (Yiwu Fair Exhibition)


Official Website:

Click to Visit


E-Mail:

trade@yiwufair.com


Tel:

+86-579-8541 5888

CITY:

Yiwu

INDUSTRY:

Furniture & Furnishing

Agriculture & Animal Husbandry

Building Decorations & Building Materials

Forestry Equipment & Landscaping

DATE:

2019/11/01 - 2019/11/04
EVENT'S PROFILE:
China Forest Fair 2019
The 12th China Yiwu International Forest Products Fair
China Forest Fair 2019 - The 12th China Yiwu International Forest Products Fair is to be held during Nov.1-4, 2019 at Yiwu International Expo Center (YWIEC), China. The organizer is Yiwu International Commodities Fair Co., Ltd.
As the first national, the second world agroforestry fair approved by UFI, China Forest Fair isa professional trade show displaying China's famous forestry enterprises, the essence of China's forest products and the harvest in China's latest forestry development. Having been held for 11 years, China Yiwu International Forest Products Fair has become the important platform of trade, cooperation and information for China's forest products going global.
Why Choose Yiwu Forest Fair?
·Yiwu is the global commodities trade center with convenient traffic and preferential trade policy
·Eight main sectors feature the entire range of forestry
·The first agroforestry fair approved by UFI
·Exhibition scale ranks the top among similar exhibitions in the Asia-Pacific Region
·Fast get industry and new products information
·Devote to accurate matching of exhibitors and buyers
·Free access to multiple high-profile networking events
EXHIBITOR'S PROFILE:
Exhibits Scope
Furniture & Accessories:
Redwood Furniture, furniture for offices, hotels, homes, schools, children, laboratories, outdoors, furniture accessories, etc;
Timberwork & Wooden Building Materials:
Timberwork residence such as wooden houses, wooden prefabricated parts; outdoor, landscape timberwork such as wooden pavilion, wooden bridge, wooden pergola; wooden building materials such as wooden doors & windows, staircases, floors, anticorrosive wood, technical wood, plastic-wood profile products; boards such as veneer, shaving board, blockboard, density board; home decoration design, etc;
Wood & Bamboo Handicrafts:
Root art, wood carving, ivory carving, bamboo weaving, bamboo carving, charcoal caving, lacquer work, photo frames, picture frames, gifts, ornaments,spices, etc;
Wood & Bamboo Daily Necessities:
Toys, kitchenware, tableware, stationery, cleaning tools, laundry, bedclothes, health care products, automobile products, outdoor gear, sports products, bamboo charcoal daily necessities; wood & bamboo fiber products, wicker weaving, rattan weaving, forest tourism equipment, etc;
Forest food:
Woody grain and oil products; bamboo shoots, dried fruits, fruits, edible fungus and related products, Chinese medicinal plants, health food, domestication and breeding products of wild animals & plants; wine, beverage, snack food, condiment, etc;
Tea Products:
Famous excellent tea (green tea, white tea, black tea, Pu'er, etc.),deeply processed tea products (tea food, tea beverage, tea health care products, tea clothes, tea pillow, etc.), tea utensil (tea table, tea pot, tea cup, tea bowl, tea tray, etc.), tea culture artwork, tea machinery, tea package, etc;
Flower & Gardening:
Flowers, seedlings; sightseeing items like ornamental plants, bonsai, fresh cut flowers, dried flowers, gardening materials and equipment like pots, cultivation medium, garden hardware tools, pets supplies; gardening sunshade net, mulch, chemical fertilizer, etc;
Forestry Technology & Forestry Equipment:
Forestry technology achievement, forestry creative products, gardening machines, machines for processing wood and bamboo, logging and log-transport machinery, forest leisure field equipment, forest fire-fighting equipment, forest pest control machines, greenhouse facilities, irrigation facilities,food and beverage packing & processing equipment, etc.
ORGANIZER'S PROFILE:
Name:
Yiwu International Commodities Fair Co., Ltd (Yiwu Fair Exhibition)
Address:
International Expo Center,No.59 Zongze Road,Yiwu,Zhejiang,China (Post code: 322000)
Tel:
+86-579-8541 5888
Fax:
+86-579-8541 5392
E-Mail:
service@yiwufair.com;trade@yiwufair.com
Official Website:
Click to Visit


Established in 1998 and share-hold by Zhejiang China Commodities City Group Co., Ltd (Shanghai Stock exchange code 600415), Yiwu International Commodities Fair Co., Ltd (short for Yiwu Fair Exhibition) is specialized in organization and service of exhibitions from home and abroad. Taking exhibition & convention service, festival & cerebration plan, design & publication of domestic advertisements as business scope, Yiwu Fair Exhibition sets up six functional departments (Administrative office, Sales 1 Dept, Sales 2 Dept, Sales 3 Dept, International Exhibition Dept, Customer service Dept) to organize and operate various kinds of domestic trade shows and exhibitions. Meanwhile, Yiwu Fair Exhibition also devotes to explore overseas brand exhibitions. At the new phase of development, Yiwu International Commodities Fair Co., Ltd will closely cooperate with enterprises in the exhibition industry, and quicken the pace of becoming an international exhibition company with excellent service.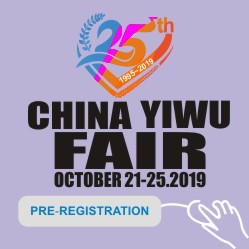 Subscribe NEWSLETTER
Subscribe to our free e-newsletter and stay in touch with China exhibition, China trade shows, China expos and China business events.